GENERAL NEWS / 28-10-2020
AR RACKING: 66,000 PALLETS FOR DOSSIN ENTREPÔTS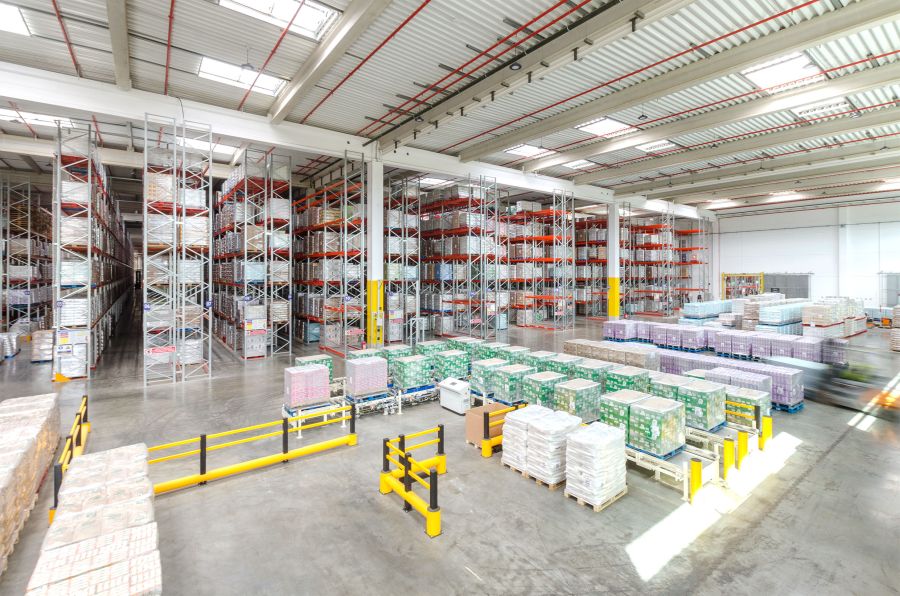 AR Racking has installed the AR PAL Adjustable Pallet Racking System for DOSSIN Entrepôts, company specialised in agri-food storage.
The three cells in which the AR PAL system was installed, with a total of 36,000 m2, enable a storage capacity of 66,000 pallets.
The Dossin Entrepôts warehouse is located in the town of Roye (France).
DOSSIN Entrepôts is a French family business. With its IFS certification, it specialises in supply and logistics storage for key accounts in the food industry. It trusted in the experience of AR RACKING, a company specialised in the design, manufacture, calculation and installation of industrial storage systems, to equip its new warehouse located near the A1 motorway in Roye (80), France.
After a detailed study of the customer's needs and situation, it opted for AR Racking's AR PAL adjustable pallet racking systems. It is the most common pallet loading system which allows direct and immediate access to all unit loads.
In this project, DOSSIN Entrepôts' new warehouse is divided into three cells of 12,000 m² each. The adjustable pallet racking system was installed over a total surface area of 36,000 m², resulting in an industrial storage capacity of 66,000 pallets. This warehouse will ultimately increase its capacity to 110,000 positions for pallets.
"The pallet racking system installed for DOSSIN Entrepôts allows storage up to a height of 12.20 m. The customer had fully automated handling equipment with 35 AGVs, resulting in an installation of very narrow aisle pallet racking (VNA), with the aim of condensing storage spaces", explained David Bollé, Key Account Manager in AR Racking France. He added, "the complexity of the project lies in integrating the needs of automation engineers and applying the very fine assembly tolerances required for automation".
For his part, Bertrand Dossin, Associate Director of DOSSIN Entrepôts commented, "we are delighted that AR Racking accepted the challenge. The installation was completed in 3 months with 18 installation engineers". He added that, "they gave us guidance with solutions we had not previously imagined, accompanying us throughout the project study phase. Our selection criteria were the shape of the stairs, the thickness of the material, the number of fixings to the floor, the bending of the beams and the ease of maintenance over time.
We have found in AR Racking a partner that has provided us a comprehensive service and that has extensive operational on-site knowledge, which is a key factor in these types of projects".
DOSSIN Entrepôts now has an efficient logistics centre, whose storage solution adapts to any type of unit load. With an extendible surface area of an additional 24,000 m², the facility is now ready to meet new storage needs.
About AR Racking:
AR Racking is part of the Arania Group, an industrial group of companies with extensive experience and scope, with a multi-sectoral activity based on the transformation of steel that dates back more than 80 years. AR Racking provides the market with a wide range of solutions with high certified quality standards and a comprehensive project management service. AR Racking's industrial storage systems stand out for their innovation, reliability and optimum efficiency.