GENERAL NEWS / 28-10-2020
SHELVING INTEGRATES AN INTERACTIVE CATALOGUE IN ITS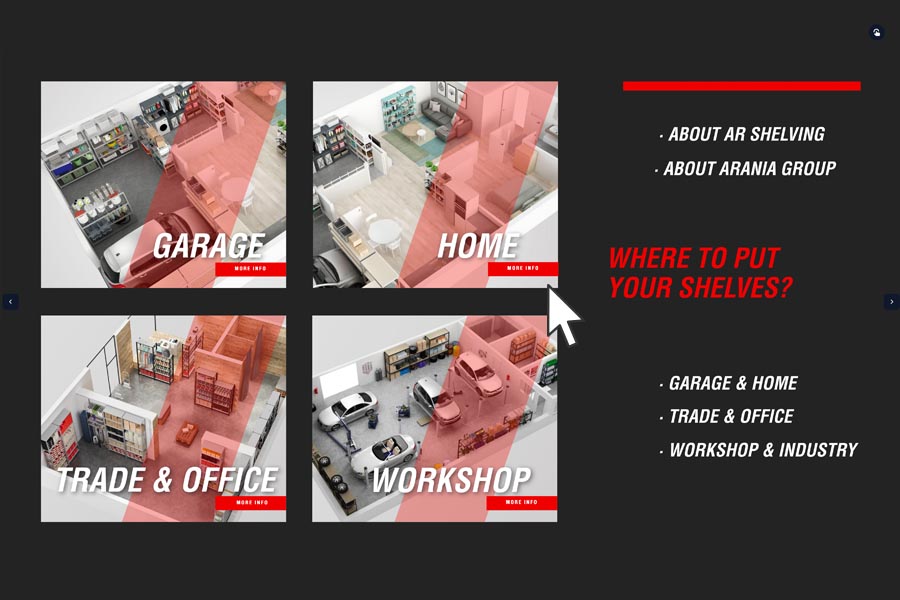 AR Shelving updates its website and integrates its interactive catalogue.
AR Shelving simplifies and updates its website for a better navigation through the uses of its products and integrates its interactive catalogue on this platform.
Being aware of the current reality, as far as the growth and usage of technology is concerned and considering the unstoppable consumption of information through different devices, but without overlooking the international scope that this implies, AR Shelving focused, more than a year ago, on dynamic marketing strategies to find a new way to introduce its online catalogue beyond simply digitalizing its paper catalogue.
The current launch introduces a tool that allows making the most of the online channel's potential and that shows a great variety of solutions and tips for use based on the peculiarities of each of its products, leading to an interactive experience through which direct and personalized control can be managed by content navigation flows.
The website with a renewed image highlights the simplicity of its navigation. Nowadays, it is categorized into uses, and not by product names as it was before, and it guides and offers the users all the information related to their interests. New videos with tips, 360º renders, assembly instructions and various kinds of materials can be downloaded either from the site or from the catalogue.
The aim of having changed the PDP is to concentrate and transmit in a very simple way all the information about the product, offering all the resources the user may need to consult in just one place.
"From AR Shelving we invite you to immerse yourself in the world of shelving, visit us in our website (https://www.ar-shelving.com/metalic-shelves/metal-shelves/) or take a deep dive into our catalogue (https://www.ar-shelving.com/our-catalogue/)"