GENERAL NEWS / 01-10-2018
SAINT GOBAIN GROUP RELIES ON AR RACKING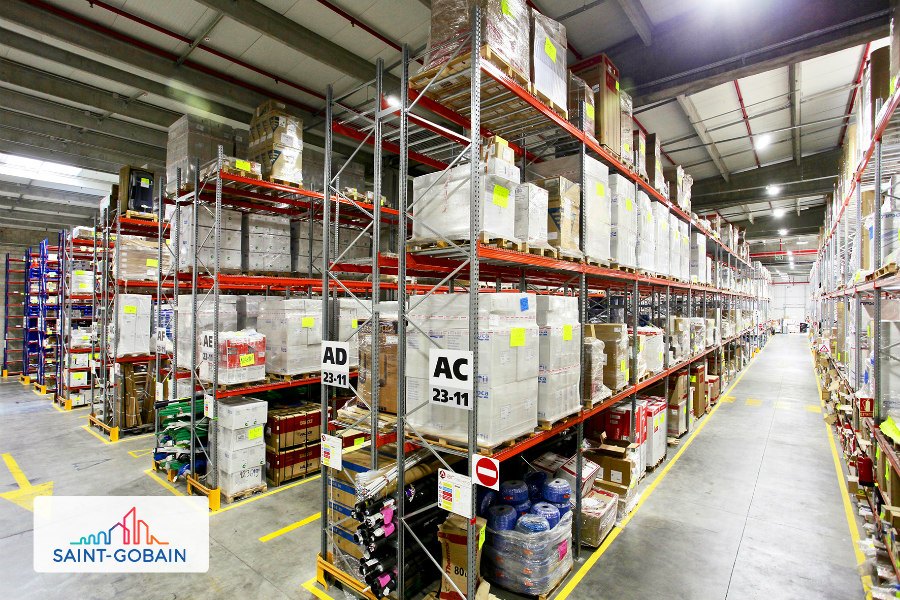 Saint Gobain Group relies on AR Racking for one of its companies in Madrid

The French group Saint Gobain -number one in the distribution of building materials in Europe- offers innovative products and solutions for construction professionals through companies such as "La Plataforma de la Construcción" ("The Construction Platform"). This company is a reference in the market thanks to its products offer, a qualified technical advice, a wide range of exclusive services and a guaranteed stock.
The company, that has as main goal to make the day to day work of the construction professionals easier helping them to save time and money, has relied on the professionalism of AR Racking (company specialized in the design, manufacture and installation of solutions of industrial storage, based in Bizkaia, Spain) for the installation of its new Logistics Centre in Pinto, Madrid.
AR Racking has designed a project with three types of shelves to adapt to the storage needs of the different construction materials of the company. On a warehouse surface area of more than 5,600 m2, a complete Adjustable Pallet Racking AR-PAL conventional pallet system, several Cantilever shelves for long loads and a group of Longspan shelves (AR LS) for manual picking have been installed.
The Adjustable Pallet Racking (APR) system installed is a conventional pallet racking system designed to store pallets mechanically by means of forklifts. The structure reaches a height of 7,000 mm and in all levels safety grilles have been placed to allow the storage of 3,000 pallets of different sizes.
The AR LS manual picking Longspan shelves due to their versatility allow manual storage of medium and small size materials and adapt to all types of load units. With a height also of 7,000 mm, 1,540 levels of 2700 wide x 700 high have been installed.
As for the Cantilever system installed -the most suitable solution for storing long and bulky loads-, it has a height of 5,500 mm. With 5 load levels (floor plus four levels), this shelf has been designed to store profiles of different sizes and diameters.
Alfonso Peña, from the commercial department in charge of the Central Region of Spain for AR Racking, affirms that "in AR Racking we adapt to the storage needs of our client and we are able to install as many types of shelves as product types are stored. This adaptability is one of our added values".
For his part, Carlos García, director of the Logistics Centre, commented: "our commitment is to make the work of the construction professionals easier and with this new warehouse we have made it possible for our customers to find what they are looking for more easily and in less time".
AR Racking is part of the Arania Group, an industrial group of companies with a long experience in a multi-sectorial activity which has revolved around steel processing for more than 75 years.