GENERAL NEWS / 03-06-2023
WORLD BICYCLE DAY IN GRUPO ARANIA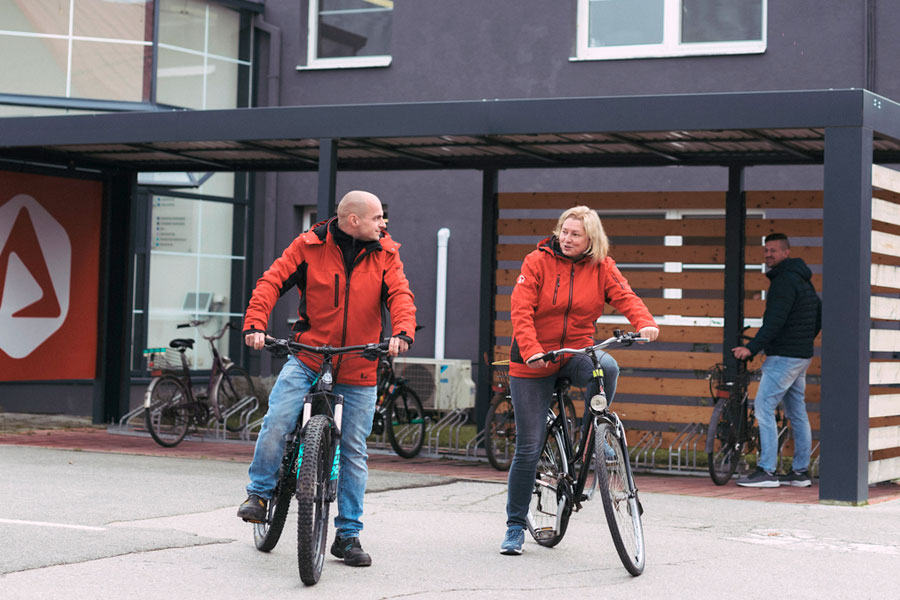 According to the World Health Organization, safe walking and cycling infrastructure is also a
way to achieve greater health equity. Cycling is a sustainable, simple, affordable, clean and
environmentally friendly way of transport that reduces the risk of heart disease, stroke, certain
cancers, diabetes and other diseases and pathologies. Improving active transport is therefore
not only healthy, but also equitable and cost-effective.

Recognising the uniqueness and versatility of the bicycle, the United Nations General Assembly
decided in 2018 to declare 3 June as World Bicycle Day.

World Bike Day invites us to reflect on the benefits of cycling. Cycling contributes to cleaner air
and less traffic jams, and makes education, health care and other social services more
accessible to the most vulnerable people.

A sustainable transport system that promotes economic growth, reduces inequalities and
strengthens the struggle against climate change is crucial to achieving the Sustainable
Development Goals.

Our coworkers at Bytča have long been aware of this and cycling is a widespread practice
among colleagues in Slovakia.

We spoke to Veronika Belavá, HR Director at AR Shelving Slovakia, to get her perspective and
some facts to encourage us to follow their lead.

How long have people been cycling to and from AR Shelving's facilities?
Cycling is so common and widespread in Bytca that people refer to this town as to "China Minor". It has always been a
mean of transport and quite popular among the people in Bytca and equally popular among our
workers. I remember bikes everywhere from the very beginning.

How many people do you estimate use this transport, and how far do they usually travel?
Normally we talk about 20 to 30 workers per day that commute either to the town center or to
neighboring villages, where the distances may reach more than 15 kilometers each way.
We see that a bike parking has been installed, do you have any other related infrastructure,
likes showers or so? Yes, sure we provide workers with changing rooms and showers located in
different parts of the company for an easy access so they should feel comfortable.

Have you noticed that the use has grown since it was implemented?
The shelter installed in front of the offices and supervised by the security 24/7 makes it attractive for the workers to use
and leave their bikes (some of them electronic and very expensive) unattended with the
guarantee that they are safe.

Is cycling a cultural characteristic in Slovakia or do you think it has something to do with the
current growing awareness of sustainability?
In my opinion the new generation becomes extremely sensitive about sustainability and green solutions with the aim to save our planet and honestly, they would do anything to protect it. So, for me, yes, the growing awareness of sustainability is a reason number one why to commute to work by bike and not by car or public
transport.

And finally, what would you say to colleagues from other factories who think that in winter in
Spain it is too cold to move around by bike?
I would love to invite them to Slovakia to see the real adventure. And for those who do not believe it might be true, ask Gorka (COO/CFO at AR Shelving) how he got used to Slovak lovely weather in the last 15 years.

Thank you very much Veronika.