GENERAL NEWS / 14-02-2020
AR RACKING EQUIPS A NEW FREEZING CHAMBER FOR VIRTO GROUP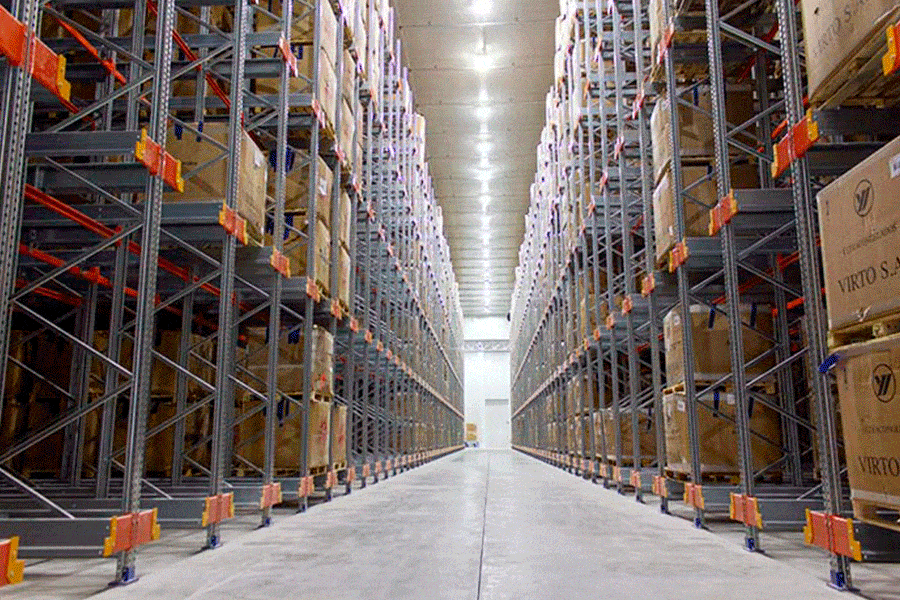 Ar Racking equips a new freezing chamber for Virto Group
Virto Group, a leading company and a benchmark in the production and distribution of deep-frozen vegetables for retail, food service and industry, has relied on AR Racking to equip the new 4,660m2 freezing chamber located in Sanchonuño (Segovia, Spain).
AR Racking has installed a compact semi-automated pallet racking solution that uses motorized satellite shuttles that autonomously perform the movements inside the rack. This system is designed for warehouses with a high turnover since it allows a continuous automatized loading and unloading of the pallets through a remote control system.
The installed system has a useful height of 15m and a total capacity of 10,520 europallet units that will be stored at a temperature of -24ºC. In addition to offering an optimal use of space and available height, the new storage system minimizes the risk of accidents (since operators do not have to pass through the aisles), improves stock control and reduces maintenance costs.
Miguel Angel Falces, Managing Director of Ultracongelados del Duero (a firm part of the Virto Group), assures that "it is very important for us to store the food in optimum conditions in order to guarantee its conservation. AR Racking's compact high-density racking solution allows us to take full advantage of the space available in the freezing chamber and to be more efficient in controlling and moving the stored loads while maintaining the overall quality of our products".
"In AR Racking we offer our clients a maximum adaptability to both the characteristics of the product and the specific needs of the project. The semi-automatic pallet racking system is a solution that fits perfectly to extreme environmental conditions, as in the case of the Virto Group freezing chamber," says Xabier Rica, AR Racking's Commercial Manager for this project. "Our competence and expertise in the assembly process, together with a strict management of deadlines and unforeseen events, have led us to reduce the execution time from 8 to 6 weeks, thereby achieving full customer satisfaction", adds Josu Monllor, AR Racking's Project Manager.
AR Racking is part of the Arania Group, an industrial group of companies of great experience and scope, with a multi-sectoral activity based on the transformation of steel that dates back more than 75 years. AR Racking provides the market with a wide range of solutions with high certified quality standards. It has a fully automated production plant and its own R&D&I technology centre. AR Racking has developed an innovative traceability procedure which means that beams and uprights have a unique identifying serial number. It also produces as standard all its racking in a pre-galvanised finish to ensure optimal storage even in extreme temperatures. Being part of a large steel group and having an in-depth knowledge of the composition and behaviour of materials give AR Racking high reliability when it comes to meeting delivery deadlines.