GENERAL NEWS / 22-06-2020
AR RACKING IN THYSSENKRUPP'S NEW SMART CENTRE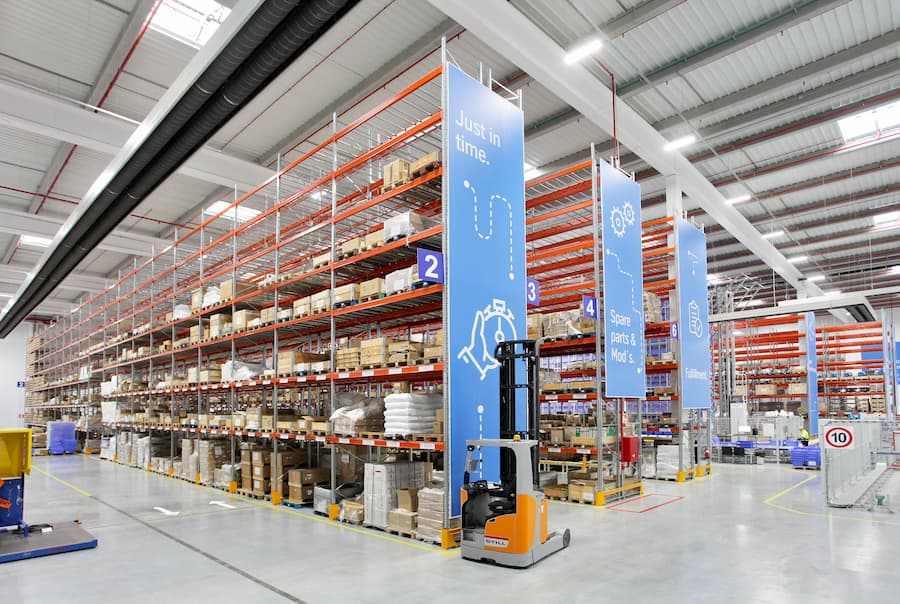 AR Racking combines different storage systems in Thyssenkrupp's new smart centre.
The installation, located in San Fernando de Henares (Madrid), can store a total of 6,288 pallets of up to 500 kg.
AR Racking has combined Adjustable Pallet Racking and Live pallet racking systems with Longspan shelving, coil racks and cantilever racking.
With an area of more than 6,000 m2, the warehouse will be the central base for Thyssenkrupp Elevator spare parts for Spain, Portugal and Italy.
Thyssenkrupp Elevator, a leading company in the manufacture, installation, modernization and maintenance of innovative intelligent mobility systems, has relied on AR Racking to equip its new smart warehouse located in San Fernando de Henares (Madrid, Spain). This is the first smart spare parts warehouse for the maintenance and repair of elevators in Madrid for customers in Spain, Portugal and Italy.
With an area of 6,853 m2, the smart warehouse combines different storage systems in one space. AR Racking has installed a conventional Adjustable Pallet Racking system (AR PAL) pallets. This solution has mesh panels at all levels and headboards (fall protection), pallet stops at all positions and protections for all the uprights. In addition, a Live pallet racking system has been integrated in 50 double-depth positions. This combination has given Thyssenkrupp Elevator a capacity to store a total of 6,288 pallets up to 500 kg.
Likewise, 116 coil racks -from 100 to 2,000 kg- have been installed, which allow storing any rolled material in a simple way. The facility also has 240 linear meters of cantilever racking designed to store long and volume loads in bulk. In this case, all levels have a movable stop and 3 of them are equipped with mesh shelves.
AR Racking has also installed five modules for manual picking with the AR LS Longspan shelving system. It is a solution for manually storing medium and small materials, and mesh shelves have also been added. This manual system facilitates immediate access to all load units and stored references.
"Our goal with this smart warehouse is to reduce waiting times for elevator spare parts by 20% and save 10% of service technician trips. The combination of the AR Racking storage systems allows us to quickly locate the different stored components, accelerate the loading and unloading processes and maintain a rigorous control of the available stock", says Ignacio Pérez, Supply Chain Manager at Thyssenkrupp Elevator.
"Projects like Thyssenkrupp Elevator show AR Racking's capacity to offer optimal storage solutions tailored to specific needs. This new warehouse can store up to 9,800 component codes with very diverse characteristics. In addition to combining several industrial storage systems, we have customized the installation with accessories (mesh for fall protection, pallet stops, spill containment pallets, etc.), paying attention to every little detail", explains Alfonso Peña, head of the project at AR Racking.
AR Racking is part of the Arania Group, an industrial group of companies of great experience and scope, with a multi-sectoral activity based on the transformation of steel that dates back more than 80 years. AR Racking provides the market with a wide range of solutions with high certified quality standards. It has a fully automated production plant and its own R&D&I technology centre. AR Racking has developed an innovative traceability procedure which means that beams and uprights have a unique identifying serial number. It also produces as standard all its racking in a pre-galvanised finish to ensure optimal storage even in extreme temperatures. Being part of a large steel group and having an in-depth knowledge of the composition and behaviour of materials give AR Racking high reliability when it comes to meeting delivery deadlines.