GENERAL NEWS / 14-11-2019
INTERNATIONAL LAUNCH OF "AR CORNER"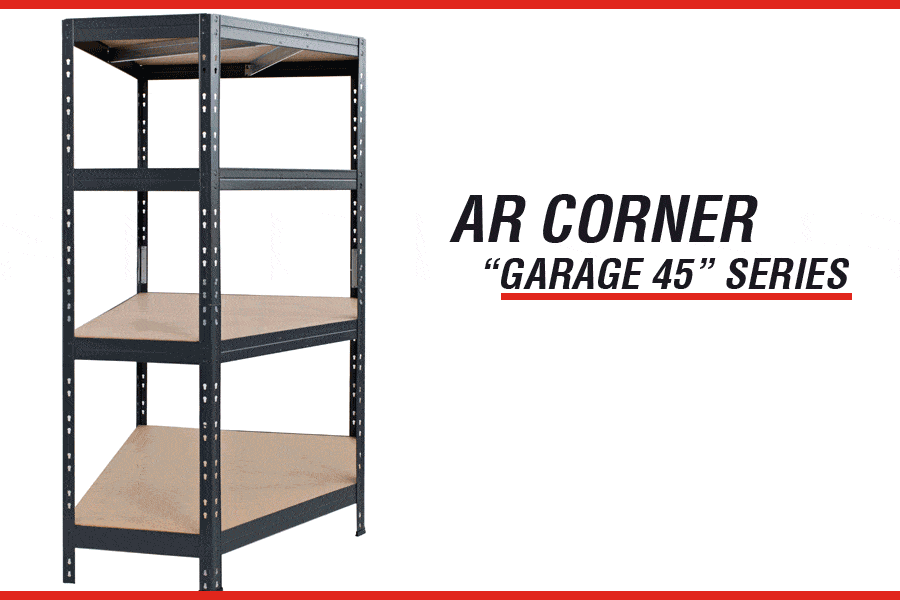 International launching of last AR Shelving's innovation: "AR Corner".
New AR-Corner kit, within its "Garage 45 series" range, is now introduced by AR Shelving to its international sales network, present in more than 30 countries around the world.
Innovation is AR Shelving hallmark, and many brand-new products have been introduced in our catalogue during 2019, but what makes this product special for us is that it can help users to optimize their space, not only at home, but also in stores and small industries.
AR-Corner improves and makes our customer's life easier, making the most of those awkward and wasted spaces in any room corner. This shelf unit, forming an angle of 45º, turns any corner into a functional space giving a certain storage continuity. Its modular feature is also brought by the fact that it has 45 cm depth, which completes the "Garage 45 series" system, having the same width and leading to the most suitable product range for garage and storage.
Its technical characteristics are significant for its loading width, the widest of the market. It has 62 cm of free storage space to easily store any product. Its assembly system, with the "Rivet Technology", is the easiest and strongest of the market as well. Besides, two reinforcements per level bring an extra sturdiness, enabling it to bear loadings of 250 kgs.
Finally, it must be pointed out that the whole GARAGE 45 range includes anti-scratch matt textured paint, which provides a greater resistance and durability.
AR Shelving faces this stage of the year true to its philosophy of continuous improving, granting absolute importance to innovation with the launching of this efficient product.
Ar Shelving leading Innovation