GENERAL NEWS / 11-11-2019
SWISS ORGANIC EGG PRODUCER F&F RELIES ON AR RACKING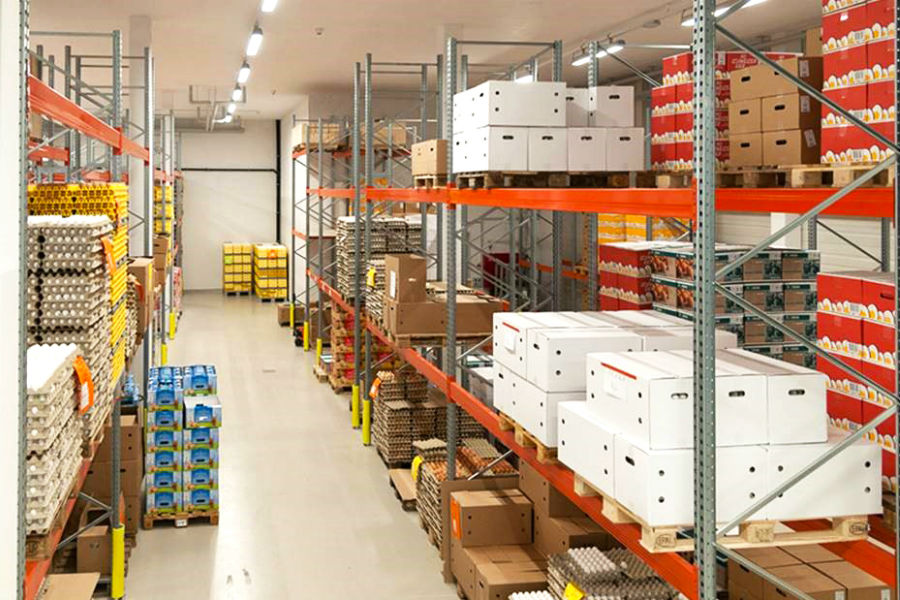 Swiss organic eggs producer f&f relies on AR Racking for its storage system
An adjustable pallet racking system has been installed at the f&f's factory, achieving 2,226 storage positions.

The project was developed in two stages.
The factory is part of an industrial compound, one of the most modern buildings in the industry.
The f&f SA AG company -based in Schötz, canton of Lucerne, Switzerland- is a national supplier of eggs and egg products with organic quality. The company has now equipped its factory building with storage technology: the AR PAL system from AR Racking. The planning and installation of the new system was handled by Debrunner Acifer AG. This firm, authorized as an AR racking distributor, is an experienced dealer and service provider in the construction, industrial and commercial sectors.
"In two stages, we set up an adjustable pallet racking system with a total of 2,226 storage positions" says Hubert Berchtold, project manager at Debrunner Acifer. This project began in 2015 with the relocation of f&f to a new facility and was completed in 2019. Thanks to this installation the Swiss egg producer with more than 25 years of history has significantly improved its fresh food storage centre. "This partnership works: works for our production plants, for our customers and for our employees. For us, it is important that a valuable natural product makes its way to the consumer fresh and in perfect quality conditions" emphasizes Mario Hodel the CEO of f&f, one of the most modern firms in its industry in Europe.
The AR Racking's AR PAL adjustable pallet racking system installed by Debrunner Acifer at f&f - is a solution that is designed to operate with forklift trucks. Hubert Berchtold explains: "Firstly, we finished Warehouse 1 in 2015 in the new industrial building". To meet the specific demands, the construction of the racks ranges between 5.5 and 10.5 meters high with a distance between beams of 2.250 and 3.050 millimetres. "In 2019 we proceeded to Warehouse 2, which we built with a height of 4.5 meters and a distance between the beams of 1,250 millimetres. Warehouses 1 and 2 cover an area of about 2,000 m2 of a total of 4,500 m2 of the new industrial building, they meet the high strict hygiene requirements of the food industry and provide a high stability". The specialist Berchtold details: "The AR PAL system is not only suitable for the food sector, but for almost all types of stored goods - whether light or heavy, large or small". The solution is modular in design and can be constructed with both standard and special depths for all types of pallets as well as wide or narrow aisles. It can be made with beams and furthermore, with shelves that can be customized in a variable way. At f&f, the storage system is an important part of the regulated flow of the fragile eggs, "so that every order arrives at the right place at the right time according to customer requirements", says Markus Dubach, manager at f&f.
About Debrunner Acifer:
Debrunner Acifer AG is part of the Debrunner Koenig Group, founded in 1755 and today one of the most traditional firms in Switzerland. This B-2-B commercial partner and service provider offers to the market two divisions: "Steel & Metals" and "Technical Products". With the "Steel & Metals" division, the Group operates in the national market with a wide range of products coming from its central and regional warehouses and a variety of processing services. The second business unit "Technical Products" covers other products and services for the construction industry and other industrial and artisan clients. These include civil engineering, hydraulic and construction technology, clamping/fastening technology, tools, machines and occupational hazards protection equipment. Debrunner Acifer AG has a wide range of around 160,000 items at national level. The company is present in more than 20 locations throughout Switzerland and has its own truck fleet as well as two modern central warehouses. Local craft centres offer local artisans and SMEs a quick access to a wide range of tools, machines, occupational hazards protection equipment, clamping/fastening technology, building technology and semi-finished plumbing.
About AR Racking:
AR Racking is part of the Arania Group, an industrial group of companies of great experience and scope, with a multi-sectoral activity based on the transformation of steel that dates back more than 75 years. AR Racking provides the market with a wide range of solutions with high certified quality standards. It has a fully automated production plant and its own R&D&I technology centre. AR Racking has developed an innovative traceability procedure which means that beams and uprights have a unique identifying serial number. It also produces as standard all its racking in a pre-galvanised finish to ensure optimal storage even in extreme temperatures. Being part of a large steel group and having an in-depth knowledge of the composition and behaviour of materials give AR Racking high reliability when it comes to meeting delivery deadlines.