TRADE FAIRS AND EVENTS / 11-05-2023
ERIC ARANA, WINNER OF THE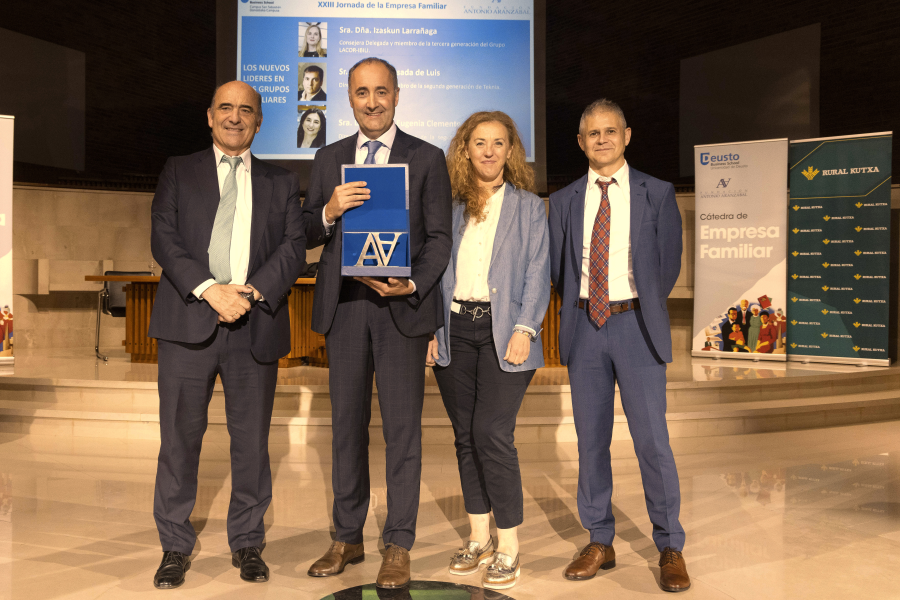 Eric ARANA, winner of the "Antonio Aranzábal Award" for his work at the helm of Grupo Arania, affirms that the group's growth has been based on internationalisation, innovation and a commitment to people.
"In the face of the challenges we need to manage as a society, we must see companies as part of the solution and with a positive impact on their environment". Eric Arana
After receiving the Antonio Aranzábal Award in recognition of his work and for maintaining the entrepreneurial spirit of the founders of Grupo Arania, Eric Arana, Chairman of Grupo Arania, defended the concept of family businesses and stated that they are still valid and current: "their long-term vision, their commitment to people and their commitment to the territories where they are based, make family business models appropriate to respond to the challenges we face as a society. It is no coincidence that economic crises, technological disruptions, health crises, environmental challenges and social crises are putting the system in check, and companies, particularly family businesses, must be seen as part of the solution".
Eric Arana made this announcement at the 23rd Family Business Conference that Deusto Business School held on the Donostia campus together with the Antonio Aranzábal Foundation. The event, held on the 11th on the subject of "new leaders in family groups", was attended by several executives from family businesses in the Basque Country, including Izaskun Larrañaga, CEO and third-generation member of Grupo LACOR-IBILI; Javier Quesada de Luis, CEO and second-generation member of Teknia, and María Eugenia Clemente, CEO and second-generation member of the Aciturri group. It was chaired by the Provincial Councillor for Treasury and Finance of the Provincial Council of Gipuzkoa, Jokin Perona, the rector of the University of Deusto, José Mª Guibert, the dean of Deusto Business School, Álvaro de la Rica, and the vice-rector of the San Sebastián campus of the University of Deusto, Xabier Riezu.
The Antonio Aranzábal Foundation was created in 1988 to contribute to the progress of society by promoting talent, entrepreneurship and family businesses. By awarding the prize to Eric Arana, the Foundation recognises his ability to maintain the entrepreneurial spirit that inspired the creation of the group more than 80 years ago.
About Grupo Arania
Grupo Arania is one of Europe's leaders in steel transformation. With more than 80 years' experience and 404,000 tonnes of steel processed per year, its continuous commitment to cutting-edge technology has made it one of the leading exponents in the sector and has consolidated its presence in the main international markets, with activity in more than 65 countries and export ratios of 80%. The group is made up of four companies: Arania, Aratubo, AR Racking and AR Shelving. Grupo Arania sees its human capital as the main growth engine, with a solid commitment to inclusion, equality and empowerment of people. For more information: www.grupoarania.com