TRADE FAIRS AND EVENTS / 23-10-2023
GRUPO ARANIA, GOLD SPONSOR AT STEEL TECH, THE INTERNATIONAL STEEL FORUM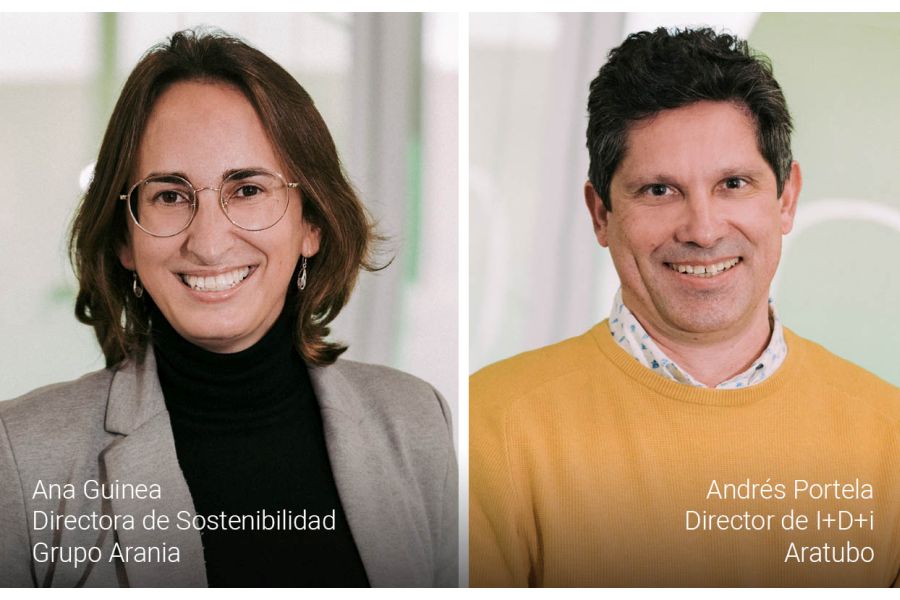 At steel tech, Ana Guinea and Andrés Portela analyse the role of sustainability and AI in industry 5.0
GRUPO ARANIA's Director of Sustainability, Ana Guinea, and the R&D+i Director of Aratubo, Andrés Portela, will take part in STEEL TECH, Congress & Expo on 26 October, one of the most important events in the steel sector in our area, which starts on 25 October at the Bilbao Exhibition Centre (BEC).
The fair is designed as a leading framework to boost knowledge transfer, technological innovation and networking between the main players of the steel sector. In addition, it will have a dynamic format to promote participation and show the state of the art in the sector. Its programme of activities is aimed at encouraging business opportunities, knowledge exchange and interaction between participants. In this context, Ana Guinea and Andrés Portela will take part as speakers in the Innovation Workshops sessions on the 26th, at 11.10 and 11.30 am, respectively, with presentations on sustainability and artificial intelligence within the scope of Industry 5.0.
The head of R&D+i at Aratubo will analyse the current state of this technology and try to uncover the myths that surround it, to show its potential and real applications within the scope of Industry 5.0. As Andrés Portela explains, this digital tool "is not a magic solution, nor is it science fiction", nor can it "make ethical or moral decisions", but it "requires careful planning and relevant high quality data to produce accurate, useful results".
During his presentation, entitled "La digitalización y la aplicación de la I/A como base de la Industria 5.0" (Digitisation and the application of AI as the basis for Industry 5.0), Andrés Portela will also share the cases and projects implemented using this technology at Aratubo, including one selected by Innobasque as one of the most notable practical cases of innovation of 2023.
In turn, the director of the new department of Sustainability, Ana Guinea, will present GRUPO ARANIA's goals in this field in her presentation entitled, "Sostenibilidad: eje de la nueva Industria 5.0" (Sustainability: the axis of the new Industry 5.0). Ana Guinea will explain the actions implemented by GRUPO ARANIA in the economic, governance, social and environmental fields. This includes the start-up of a new psychological support service to help the people in their workforce maintain their mental and emotional health. All of this has one goal, explains Ana Guinea: "Promoting sustainable growth and a culture focused on caring for our stakeholders and for the environment", always through the values of "transparency and honesty that define us and help us to achieve excellence in quality and service".
Anyone interested in attending the fair will have the chance to participate actively in one of the leading meeting points in the sector, with its key players, given that attendance to the exhibition area is free and simply requires prior registration.